3 Levels, Infinite Possibilities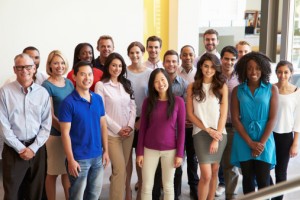 Many companies are in growth mode, ramping up production and hiring new personnel. Of course, these businesses want to attract and retain the best employees as they continue to prosper.
When your customers find themselves in this position, they'll need access to resources and custom programs that will help them enhance their employee offerings and engagement. That's where HRAnswerLink can help.
Ophelia Yan, one of our friendly and experienced HR Pros, works as a behind-the-scenes guide for businesses that turn to HRAnswerLink for support. "Our goal is to provide clients with the tools and support to be an employer of choice," she says. "While we can't actually implement programs for our clients, we can assist them in hashing out ideas and discussing pros and cons of different methods of implementation."
Naturally, some companies require more assistance than others, which is why HRAnswerLink provides resources for HR support at any level: From immediate-access information to on-demand consulting with HR Pros to complete HR support, HRAnswerLink has your customer covered.
Here are our three levels of entirely customizable support for your customers' growing businesses:
HR Support Center
The ultimate online HR resource, the HR Support Center allows users to customize everything from forms to handbooks, attend Training On-Demand sessions, and access quick guides covering the most pertinent HR topics.

"I like to think of these [resources] as the HR basics; they create a culture of transparency and cultural understanding between a company and its employees," Ophelia explains. "When there is a mutual understanding of how the company operates, it frees up time that would be spent on miscommunications and conflict management."

All of the features in HR Support Center are meant to enhance your knowledge and represent your brand in the best way possible.
HR On-Demand
For those companies that need more to turn to than the Internet, HR On-Demand is a high-value solution.

"Even with a powerful tool like the HR Support Center at our clients' fingertips, it's a lot of information, and it helps to have someone you can talk through things with to better understand what to do going forward," Ophelia explains.

HR On-Demand clients have unlimited access to our highly rated HR Pros, who are available to help with customizing documents and sharing their up-to-date expertise in compliance and employee management. "That's the goal of the HR Pro — to help our clients learn and understand the ever-changing world of HR," Ophelia says.
HR Complete
For projects that go beyond questions, handbook creation, and document reviews, clients can turn to HR Complete — the industry's most comprehensive offering of HR protection and support.

"These clients have access to a designated HR Pro who will assist with their HR needs beyond compliance issues," Ophelia says.

In addition to working with same HR Pro every time, HR Complete clients will receive a detailed audit, have a custom HR action plan developed for their company, and then they'll have hands-on guidance from their HR Pro as they navigate through compliance and strategic planning. It's remarkably thorough and proactive.

"These are some of our favorite clients, as it gives us the opportunity to get to know the company, the issues that the company faces, and where the company has the most opportunity for improvement," Ophelia adds.
The best in the business
Regardless of which program fits your client's current business model, each one is an invaluable add-on for busy HR personnel. You want a program that's as good for your customer's bottom line as it is for their time cards, and as Ophelia points out, the cost savings of HRAnswerLink's programs are unbeatable.
"It wasn't long ago that I worked as an in-house HR Generalist, and no matter how much time I tried to dedicate to staying on top of my HR knowledge, other things would keep popping up," Ophelia recalls. "Rather than calling an attorney, it would have saved the company a tremendous amount of money to simply contact an HR Pro who has access to a team of HR experts to verify their recommendations."
It's knowledge like this that is saving countless organizations time, money, and headaches in their HR departments. Help your clients protect and grow their businesses by sharing these valuable HR solutions today!
[cta]We encourage you and your clients to visit our website and take a tour of our different levels of service. If you have any questions, please feel free to reach out to our Client Success Lead Katherine Du Pont at any time.[/cta]