HRAnswerLink Is Recognized In Oregon's Top 100 Companies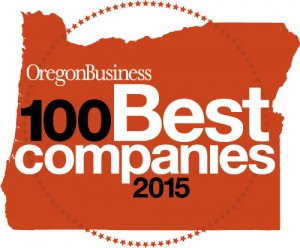 HRAnswerLink prides itself in our ability to provide our clients with the resources they need to offer excellent HR services — and we do our best to treat our employees with the same dedication and care. That's why we are excited to announce that we were named one of the top companies to work for in Oregon for 2015!
The Oregon 100 Best Awards honors companies that offer quality workplaces and foster happy employees. More than 270 companies from various industries across the state participated in 100 Best Survey, and the top 100 were selected for recognition.
HRAnswerLink was ranked 12th in the "Small Companies" category with this description:
"It is fitting that a company dedicated to human resources has a good relationship with its workers. Staff boast of a good dynamic with superiors, family events and unlimited paid time off. A new CEO has energized the workforce, pushing employees 'into an exciting new world.'"
This is an incredibly exciting and gratifying achievement for HRAnswerLink, as we continue to strive to build an even better company for our employees. CEO Nathan Christensen says, "It's an incredible honor to be recognized by the Oregon Business Journal as one of the top 100 companies to work for in Oregon. Building a cohesive, collaborative, and constructive workplace is one of our core values — not only for ourselves, but for our clients too."
This recognition is an achievement for the entire company. "It's a team effort," says Christensen. "I'm inspired every day by our talented and dynamic team and all they have accomplished."