Get Ready for a Brand-New HR Support Center!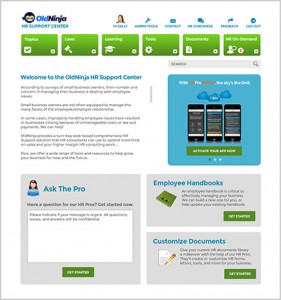 An easier, smarter, faster HR Support Center is coming soon! This winter, HRAnswerLink will reveal our redesigned and greatly expanded HR Support Center website — packed with tools and features to anticipate your clients' needs, drive them to the right solutions, and recommend additional resources before they need to ask.
A new way to do HR
HRAnswerLink has designed the new HR Support Center with you and your clients in mind. Our goal for the updated website is to make HR simple, approachable, personal, and — dare we say it — fun!
We approached the HR Support Center relaunch by breaking the project into steps.
Step one: Implement a flexible platform that we can expand and update quickly. Whilen developing this platform, we incorporated best practices and useful features from industries beyond HR.
Step two: Create a highly intuitive user interface (UI) that presents HR in a dynamic and personal way. Our new, smarter UI will not only make it easier for users to find the content they're looking for, but also point them to other useful tools and resources they may be interested in.
New feature highlights
But we didn't stop there. The all-new HR Support Center will include the features we debuted in summer 2014 — such as iDeliver, HR Concierge, and Dashboard — along with a host of additional enhancements. Here are just a few of the new features your clients can look forward to:
HR document saving and tracking,
compensation data and analysis,
transition from "tickets" to "conversations,"
the ability to favorite and follow documents and pages, and
expanded interactive tools.
The all-new HR Support Center will change the way businesses experience HR. More than just a new website, the HR Support Center will provide not only information, content, and links, but will put insights, tools, and a team of HR Pros at your clients' fingertips. It's a whole new approach to HR!