Give Your Clients Ease and Convenience with 2 New HR Services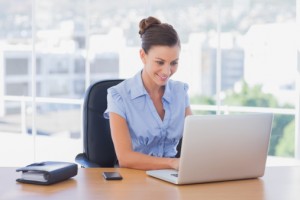 At HRAnswerLink, we're always looking for ways to give your clients access to the HR information they need, when they need it. Two new services now available to your customers with HR Support Center make getting answers to HR questions more convenient than ever.
HR Snapshot
Every week, our HR Pros receive hundreds of questions on all kinds of HR issues, topics, and trends. HR Snapshot allows you to share with your clients the questions being asked and the advice our HR Pros give. With HR Snapshot, you can send a weekly, branded email directly to your clients right from your HR Support Center — at no additional cost.
HR Snapshot keeps your clients informed about HR issues that could impact their business. Our certified HR Pros will select one question to highlight for each weekly HR Snapshot email along with the answer and the HR Pro who handled it. Here's an example of a recent HR Snapshot email.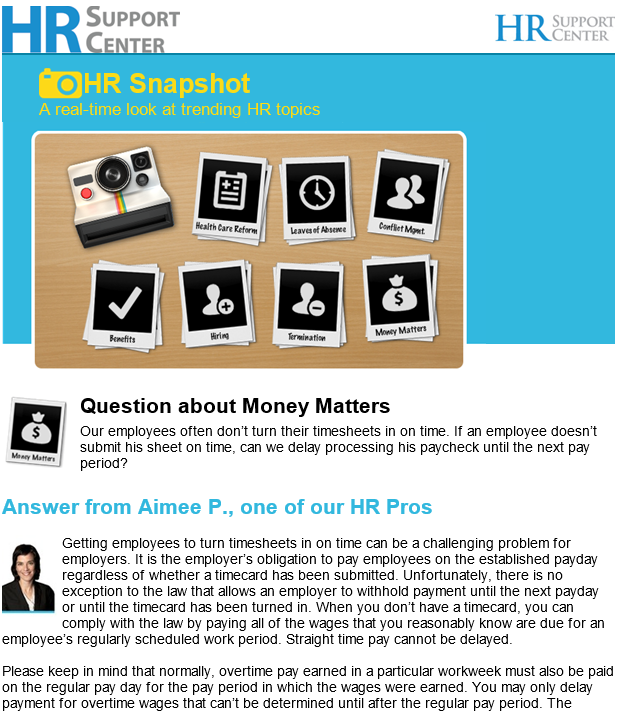 HR Concierge
HR Concierge is our new, free live chat assistant. HR Concierge gives your clients with HR On-Demand instant access to a member of our HR team through their HR Support Center. The HR Concierge can answer questions, identify client needs, point your clients to the right tools to solve their HR challenges, or connect them with one of our HR consultants. The HR Concierge desk is open from 6 a.m. to 5 p.m. PST.
HRAnswerLink strives to provide tools and resources that make our services the go-to HR resource for your clients. HR Snapshot and HR Concierge provide two new options that make our HR services an even better value.
We encourage you to take Training On-Demand for a test drive by clicking on the "Training and Education" tab in the HR Support Center. If you have any questions, please feel free to reach out to
Alicia Ness
 in the Client Experience Department at any time.