New Sales Tools for Affiliates!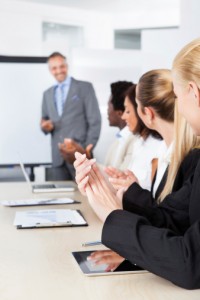 At HRAnswerLink, we make it a priority to listen to our customers. You told us you wanted tools and solutions to help you market HR Support Center to your clients, and we heard you. Our Client Experience Department is excited to provide you with several updated and new free sales tools!
Free live training sessions
Affiliates can sign up for free 30-minute live interactive training sessions with Training Specialist and certified HR Professional Rebecca Seaman, PHR. The training is conducted in real time using your affiliate-branded site, so your sales team sees exactly what the client would see when they log in. You can include as many attendees in the session as you'd like.
HRAnswerLink Client Experience Manager Alicia Ness explains the benefits of the interactive training sessions. "What's awesome is that with her HR certification and background, Rebecca is able to not only touch on the value of the site and the different areas that affiliate sales reps should point out during their sales presentations, but also what their clients will see as valuable on a day-to-day basis," she says. "Rebecca's training session provides a very well-rounded idea of where the value is going to be when selling our services."
HRAnswerLink also provides free end-user training for our affiliates' prospects and clients. As a way of supporting our affiliates' efforts, we help them to understand the value of the service and how to use it to the benefit of their organizations.
Enhanced and expanded sales kit
The Sales Kit available for affiliates has been updated with new materials to help market and sell HRAnswerLink services effectively. Here are just two of the many updates you'll find:
Expanded set of sales and marketing pieces — fully customizable for your brand. "Every piece is customizable, so affiliates can either pull bits and pieces of information from them for their own marketing, they can take a paragraph here and there, or they can add their logo and contact information and their own text to make them distinct pieces," says Ness.
New User/Prospect Guide. A new addition to the Sales Kit, this guide reviews each tab in the Support Center and explains the resources available. "The New User/Prospect Guide is a terrific resource, not just for sales reps to use in their demonstrations but also for any new users who are feeling a little bit intimidated by what the site might offer," Ness says.
To download the sales kit from your administrator account, click the Manage tab and select Sales Kit.
Free sales demo accounts
Our Client Experience Department saw how much our affiliates used their accounts for sales demos and as a result, HRAnswerLink now provides free, fully functional sales demo accounts for affiliates. There is no limit on the number of sales demo accounts you can have, so now every salesperson on your team can have his or her own account.
These sales demo accounts are a valuable tool that your sales team can use to showcase the HR Support Center to your prospective clients. And the best part? Not only are the accounts free, but they are also branded for your organization. "Branding is so important to our affiliates!" says Ness. "The extra opportunity to have their logo in front of the clients during a demo is all the more beneficial."

What sets us apart from the competition? We think it's pretty simple. Check out the
top ten reasons HRAnswerLink is second to none
.
If you have any questions or want to sign up for free sales demo accounts for your organization, please contact Alicia Ness, Client Experience Manager, at (925) 201-5055 or AliciaN@HRAnswerLink.com.